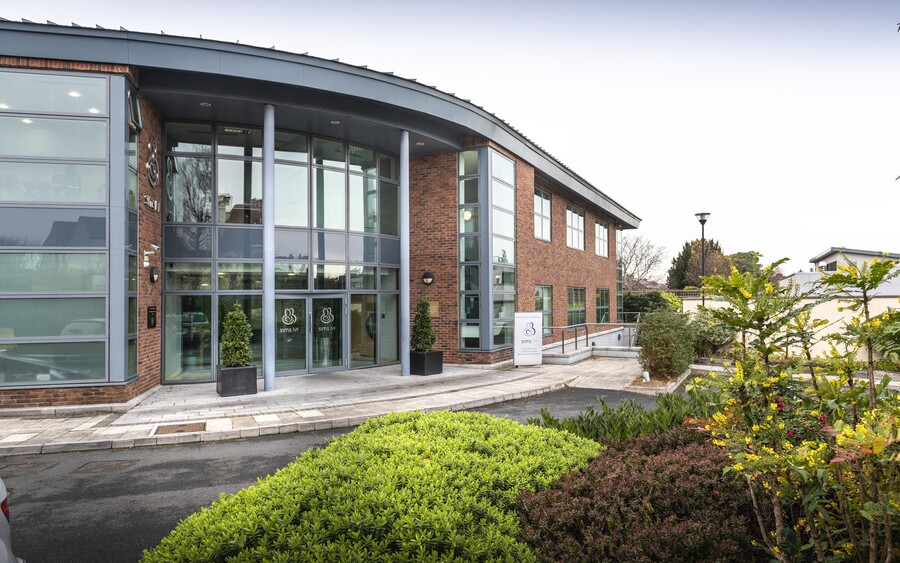 Sims IVF Dublin Fertility Clinic
SimsIVF, Clonskeagh Road,
Clonskeagh, D14 A312
Tel: + 353 1 2080710
Fax: + 353 1 2080715
Email: info@sims.ie
The Sims IVF Dublin Fertility Clinic in Clonskeagh offers fertility testing and treatment in our state-of-the-art facility, with access to some of the most advanced technology in the world.
At our Dublin fertility clinic, you have everything you need for your fertility journey in the one location. Including consultations, blood and ultrasound monitoring, fertility testing through our on-site medical testing partners Zentra Labs well as day surgery procedures including egg collections and embryo transfers.
Our experienced doctors offer a comprehensive range of treatments to assist conception and maximise your chance of having a baby. They will work with you to tailor a treatment plan that suits your needs.
SimsIVF is the number one fertility clinic in Ireland and our success rates are some of the best in the country.
If you are having difficulties conceiving, we are here to help support and guide you. Contact us to book an appointment.
Services at our Dublin Fertility Clinic
Fertility testing – Our advanced fertility testing covers both female and male fertility problems to help make a diagnosis and recommendations for treatment
Fertility treatments – We offer a range of fertility treatments including ovulation induction, artificial insemination, IVF, ICSI and pre-implantation genetic testing.
Pre-implantation genetic testing – An advanced scientific technique that can be used to screen embryos for a chromosome abnormality.
Donor programme – A supportive donor program to assist people needing donor sperm or donor eggs or both (double donation) to have a baby.
Counselling – We have a resident counsellor to provide extra guidance and support through the critical times during your treatment
Enter an address to be localized.
Location

Address: SimsIVF, Clonskeagh Road, Clonskeagh, D14 A312

Nearby landmarks are the UCD Clonskeagh entrance and we are next to Clonskeagh Motors. The building entrance can be recognised from the road by two marble fronted gates with SIMS written on them. Ample onsite parking is available at the clinic.

Please remember to arrive twenty minutes before your appointment time for registration. In the event that you are lost or having difficulty in finding the clinic, please do not hesitate to call us.

Directions

By Car:

The AA provides a route free planner for anywhere in Ireland or the UK. This service is available online. By clicking on the link below you can organise your journey from place of origin to the Sims IVF, Clonskeagh Road. www.theaa.ie/routes
To check for expected delays or road works on route click below. www.theaa.ie/routes/newsroom

By Bus from Dublin City:

Dublin Bus offers a good service from Dublin City Centre to Clonskeagh. From O'Connell Street the, 11, 11a, 11b will take you to the Clonskeagh Road. Dublin Bus now offers a SMS Bus times service. Text BUS followed by the bus route number e.g. BUS11 to 53503 and send. Times for the next three buses on that route in both directions will be sent to your phone. This service costs approximately 30c.

By Bus to Dublin:

Many buses from all over Ireland arrive into Dublin each day. For information on service routes or for bus times please call Bus Eireann on 01- 8366111 or you can view this information on the web: www.buseireann.ie

From Dublin Airport:

The clinic is situated approximately 50mins drive from Dublin Airport. During rush hours you should allow more time getting from the airport to the clinic. If you are flying to Dublin, please notify Reception so that we can allocate a suitable time for your appointment. If you intend staying for a few days there are several facilities for renting cars at the airport. Otherwise, you have the option of a taxi or the Aircoach.

The Aircoach leaves every 15 minutes although it does not go directly to Clonskeagh. The nearest stop is Donnybrook Road and a taxi ride will take about 8 minutes from there.

Directions from M50:

If coming from the M50 take exit 13 for Dundrum/Sandyford. At the end of the slip road take the 3rd exit off the roundabout heading towards Sandyford, vere left down the slip road and continue straight onto Drummartin Road, Follow the road straight onto Kilmacud Road, Goatstown Road, then Clonskeagh Road. The clinic is located on your left hand side just before Clonskeagh motors.

Taxi's from the city centre:

Taxi's are easily obtainable in all areas of the city centre. A taxi from the city centre should cost you approximately €15.

By Train:

Trains arrive daily into Heuston and Connolly Station. For details on times, please contact Irish Rail on 01- 8363333 otherwise you can visit their website www.irishrail.ie

Taking the Dart:

Although the DART does not come as far as Clonskeagh, it may be the convenient way for you to get to Dublin City. Clink on the link below for DART routes and times. www.irishrail.ie/home/