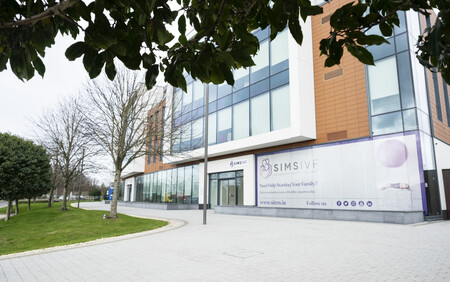 Cork Clinic
City Gate, Mahon,
Cork, T12 WEF9
Tel: +353214410900
Fax: 021 4410910
Email: infocork@sims.ie
The Sims IVF Cork Fertility Clinic at Citygate, Mahon offers fertility testing and treatment with access to some of the most advanced technology in the world.
At Sims IVF Cork, we strive to provide everything you need for your fertility journey in one location. Including consultations, blood and ultrasound monitoring, fertility testing, and day surgery procedures including egg collections and embryo transfers.
Our experienced doctors offer a comprehensive range of treatments to assist conception and maximise your chance of having a baby. They will work with you to tailor a treatment plan that suits your needs.
Sims IVF is a leading fertility clinic in Ireland and our success rates are some of the best in the country.
If you are having difficulties conceiving, we are here to help support and guide you. Contact us to book an appointment.
Services at Sims IVF Cork
Fertility testing – Our advanced fertility testing covers both female and male fertility problems to help make a diagnosis and recommendations for treatment
Fertility treatments – We offer a range of fertility treatments including ovulation induction, artificial insemination, IVF, ICSI and IMSI.
Donor programme – A supportive donor program to assist people needing donor gametes to have a baby.
Embryoscope for all
Embryoscope Plus is a new generation incubator that uses time-lapse technology to allow us to continuously observe your embryos during their development undisturbed. The Embryoscope incubator has a built-in camera and microscope that take an image of your embryos every 10 minutes.
Enter an address to be localized.
Location

SimsIVF Cork - City Gate, Mahon, Cork, T12 WEF9

We can be found in Cork's specialist medical hub at Citygate in Mahon, adjacent to the Cork Mater Private Hospital.

Directions & Parking

Directions

We can be found in Cork's specialist medical hub at Citygate in Mahon, adjacent to the Cork Mater Private Hospital. Our clinic is easily accessible off the South Ring Road which connects all parts of Cork city. We are on a number of direct bus routes from Cork city centre and just a four-minute walk from Mahon Point Shopping Centre. Download our Sims IVF Cork Driving and Parking Directions Please turn on the WIFI function on your phone - to ensure that Google Maps brings you to the exact location.

Parking

Sims IVF Cork has allocated patient parking at the underground car park at City Gate. The spaces are available at the end of the entrance ramp on the right-hand side.