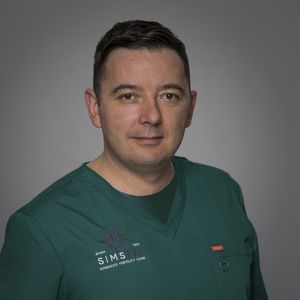 Iulian Roman
Laboratory Manager
Clonskeagh Clinic
He is passionate about laboratory design, with one research and three Human IVF laboratory setups in his portfolio, including the one in our new Swords Clinic
Iulian is an ESHRE certified Clinical Embryologist with more than 10 years of experience in the human fertility clinics. Iulian graduated as a Biotechnology Engineer at USAMV University of Cluj, Romania and has a Master thesis focused on additional sperm selection for ICSI. He has a solid research background in animal reproductive biotechnologies and medical genetics.
He is passionate about laboratory design, with one research and three Human IVF laboratory setups in his portfolio, including the one in our new Swords Clinic.
He moved to Ireland in 2017 and joined SIMS as a senior embryologist, which allowed him to develop further his experience in training new staff and laboratory quality assurance, in both our Dublin clinics, Clonskeagh and Rotunda IVF/SIMS Swords.