Life At Sims IVF
Here at Sims IVF, we understand that many of our patients (future, past and present) would love to get an insight into why our team have chosen to work in fertility and what life is really like in our clinic. So, we sat down with some of the key members of our team to find out about some of the stand-out moments that make them glad to be part of the Sims IVF team.
Lead Midwife (Cork), Aoife Stanton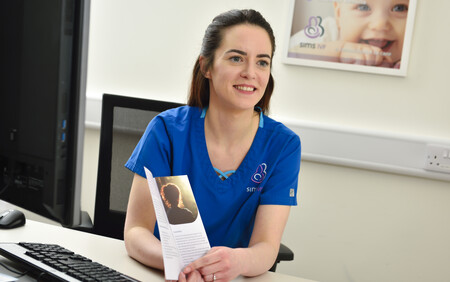 Aoife Stanton heads up the midwifery team in our Cork clinic. Aoife believes fertility isn't spoken about enough in day to day life, so she appreciates the opportunity that her work in fertility has given her; to understand the struggle that so many people go through to have a child. Because of this understanding she says her primary goal is to offer her patients the support they need to make their fertility journey a little bit easier.
Patient Coordinator, Eithne Early
Patient Coordinator, Eithne Early, plays a key role in our team, as the person responsible for scheduling patients' appointments in our Dublin clinic. Being part of a team that helps people achieve their dreams of having a family is one of her key motivations, with the positive results being particularly rewarding! Eithne also enjoys the sense of kindred spirit among the administration team and the fact that they were work so well together, ensuring everything operates smoothly for patients.
Fertility Nurse, Abbie Drinan
Abbie Drinan is a Fertility Nurse at Sims IVF Cork. For Abbie, the opportunity to build a repoire with patients is one of her favourite things about working with Sims IVF. Abbie understands that fertility treatment can cause a lot of stress so she values the chance to ease some of her patients' stress. Of course, as a fertility nurse Abbie is always rooting for her patients and she says there's no better feeling than picking up the phone to tell someone that they're pregnant.
If you're considering fertility treatment at Sims IVF you can contact us for more information or book an appointment.