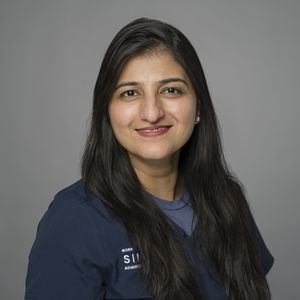 Fertility Specialist
Swords Clinic
Dr Nosheen finds the thought of helping someone achieve a sense of family in any way possible very fulfilling.
Dr Nosheen Iram graduated with a degree, MBBS in 2010, from Sheikh Zayed Medical College, University of Health Sciences Pakistan.
Dr Iram has always had a special interest in helping people and with that motivation, she volunteered in various Frontline Non-Governmental Organisations for example; Save The Children (USA & Australia), International Medical Corpse Australia during the flood crisis in Pakistan in 2011 and 2012 to help the survivors of flood disaster in outreach interior rural areas of Sindh and Punjab province which has been one of the greatest experience of her life.
Following that Dr Nosheen worked in various emergency and childcare services, but her passion was Obstetrics and Gynaecology for which she did her Membership and later fellowship Exam in Pakistan.
She was always intrigued by advancements in medical practices, and it was her passion to expand her knowledge, which brought Dr Nosheen to Ireland.
Dr Nosheen is currently completing her Membership exams for both MRCOG/MRCPI and has completed part one for both.
Dr Nosheen has been working in Ireland for almost five years and has been honoured to work with some of the top and most brilliant Consultants in Obstetrics Gynaecology, Oncology, Robotic Lap surgery, Urology and fertility services all over Ireland
Like every other Individual, Dr Nosheen has had many ups and downs on her own journey. She is struggling with fertility issues too and can relate to the pain and anxiety of this journey, this was one of the key factors for wanting to work in a fertility clinic.
She has a deep interest in improving Cumulative Live Birth Rates through participation in audits and research work in the advanced scientific world of Fertility.
Dr Nosheen has high ambitions to play her part as a very productive member of the fertility world to help people in Ireland and across the world. She finds the thought of helping someone achieve a sense of family in any way possible very fulfilling.