Coronavirus / COVID-19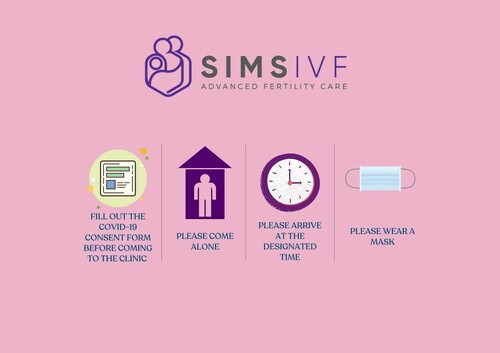 Vaccine
We will continue to advise patients to commence fertility treatment after the second dose of the vaccine.
If a patient become pregnant (naturally or by ART) after the first dose of the vaccine, the second dose is not recommended until at least 14 weeks of pregnancy. This is in line with HSE guidance.
If you would like to go ahead with your vaccine regardless of what stage of treatment you are at, please discuss with your doctor.
See more information from the HSE here.
We understand that this is a challenging time for everyone and we are working hard to keeping everyone safe whilst also providing the highest standard in care.
Further Update
Partners are now allowed to attend for OB scans, please speak with the nursing team if you have any further questions.
Our guidelines

You will need to fill out a COVID-19 consent form before attending the clinic. The patient coordinators will send this form out to you prior to your appointment.
Please wear a mask when entering the clinic
Please wear comfortable clothing when entering the clinic- this will help to reduce time spent changing in and out of clothing.
Your temperature will be taken upon entry.
If you are feeling unwell please call the clinic first, do not attend. Call us instead.
Please note all patients booked in for initial consults or return consults on site will now take place over the phone or Skype/Zoom.
Those unable to attend due to illness, childcare issues or wish to defer treatment will be facilitated.
If you are deemed a close contact to a positive, please inform us and we will defer treatment for two weeks. There will be no financial penalty for patients.
Please attend your appointments alone unless attending for OB scan. Partners are allowed to attend OB scans.
We must advise that children will be prohibited from attending the clinic at this time

Vaccine information

We will continue to advise patients to commence fertility treatment after the second dose of the vaccine.
If a patient become pregnant (naturally or by ART) after the first dose of the vaccine, the second dose is not recommended until at least 14 weeks of pregnancy. This is in line with HSE guidance.
If you would like to go ahead with your vaccine regardless of what stage of treatment you are at, please discuss with your doctor.

See more information here.

This follows best practice guidelines of Irish hospitals and other medical facilities.

The situation will be kept under constant review by our management team and we will advise you of any further updates

Contact details

The main phone lines will be open from 8 a.m. until 4p.m.

These measures are taken so that our patients and staff are protected. We understand that they may cause inconvenience but it is essential that we follow government guidelines. We thank you for your patience during these uncertain times.

Immunothearpy

For certain patients, the prescribing of immunothearpy drugs has resumed. This is being carried out in a controlled way. Please discuss with your doctor to find out more.

From the HSE Website
To minimise the risk of COVID-19 in our clinics, we require all patients to fill out our COVID-19 Consent Form before attending any of our clinic